If you're still using Windows 7 or Windows 8.1, you may want to upgrade to Windows 10. You can still upgrade to Windows 10 for Free! Let me tell you how.
Microsoft won't tell you that Windows 10 is a free upgrade, but I discovered that, in fact, computers with legitimate Windows 7 or Windows 8.1 licenses can still be upgraded to Windows 10 for free. Keep reading for full instructions.
Note: During my test it took a full 3 hours from start to finish for Windows 10 to completely install and restart so you need to make sure you have at least 3 hours to set aside before starting this process.
To get Windows 10 for free, you will need to download and run the Windows 10 Media Creation Tool. This only works if your PC computer is running a legitimate copy of Windows 7 or Windows 8.1 with a valid license key. You could try this method if you are running Windows 8 but they do not show that as an option on the Windows 10 Media Creation Tool website.
Checklist Before Installing Windows 10
Before you install Windows 10, check to make sure your PC meets the system requirements for Windows 10.
You may also want to backup your computer or at least backup your personal files before trying to install Windows 10, just in case something happens and you have to do a restore back to Windows 7 or Windows 8.1.
Make sure you have your license handy. I upgraded my Windows 7 HP laptop and my license key was on the bottom. It may not be required but you wouldn't want to get halfway through the process and not have the license in case you are prompted for it.
System Requirements for Installing Windows 10
1 gigahertz (GHz) or faster compatible processor or System on a Chip (SoC)
1 gigabyte (GB) for 32-bit or 2 GB for 64-bit
32GB or larger hard disk
Compatible with DirectX 9 or later with WDDM 1.0 driver
Monitor Display: 800×600
How to Upgrade to Windows 10 for Free
1. Using your computer, download the Windows 10 Media Creation Tool and click Run.
2. Click Yes when it asks you if the program can make changes to your computer.
3. Accept the Licenses terms.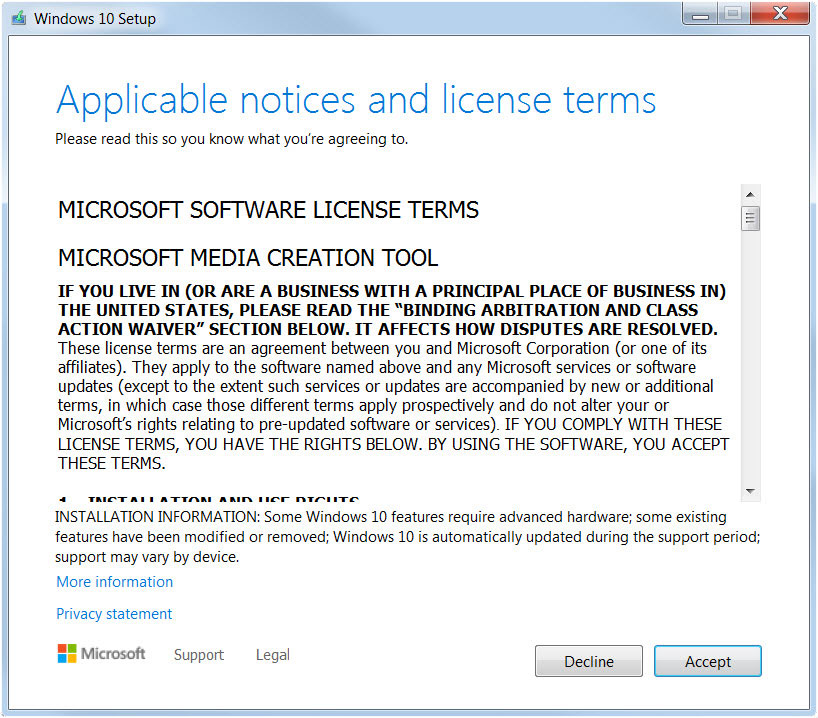 4. On the next page, click Upgrade this PC now, and click Next.

The Windows files will begin to download and then verify. This could take awhile and it won't affect the usage of your computer so you can continue to work.

5. When the files are completely downloaded you will be prompted to accept more license terms. Click Accept to continue.
6. At this point the Windows 10 Media Creation Tool will look for updates online and then check make sure your PC has enough space. Be patient during this process. You can continue to use your computer.

7. Now is the time to decide what to keep. If you want to keep your personal files and apps, just click Install to begin the Windows 10 installation process as this is the default option. You can also click, Change what to keep, if you want to see other options.

Windows 10 is now ready to install. You won't be able to use your PC while Windows installs. Save and close your files before you begin. This next step can take up to 2 hours so be patient.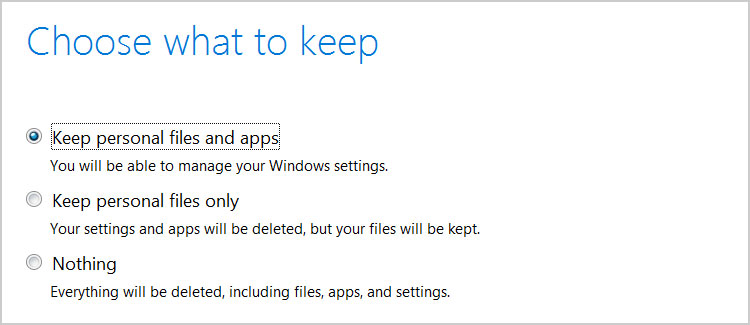 During the Windows 10 installation process your computer will restart multiple times. Do not turn off your computer.

8. Grab a cup of tea and play some Candy Crush on your phone while Windows 10 installs. There's nothing else you need to do at this point but just wait through the entire process.
9. When Windows 10 completely installs you will be given the option to choose your privacy settings for your computer. Read each carefully, enable or disable as needed and then click Accept.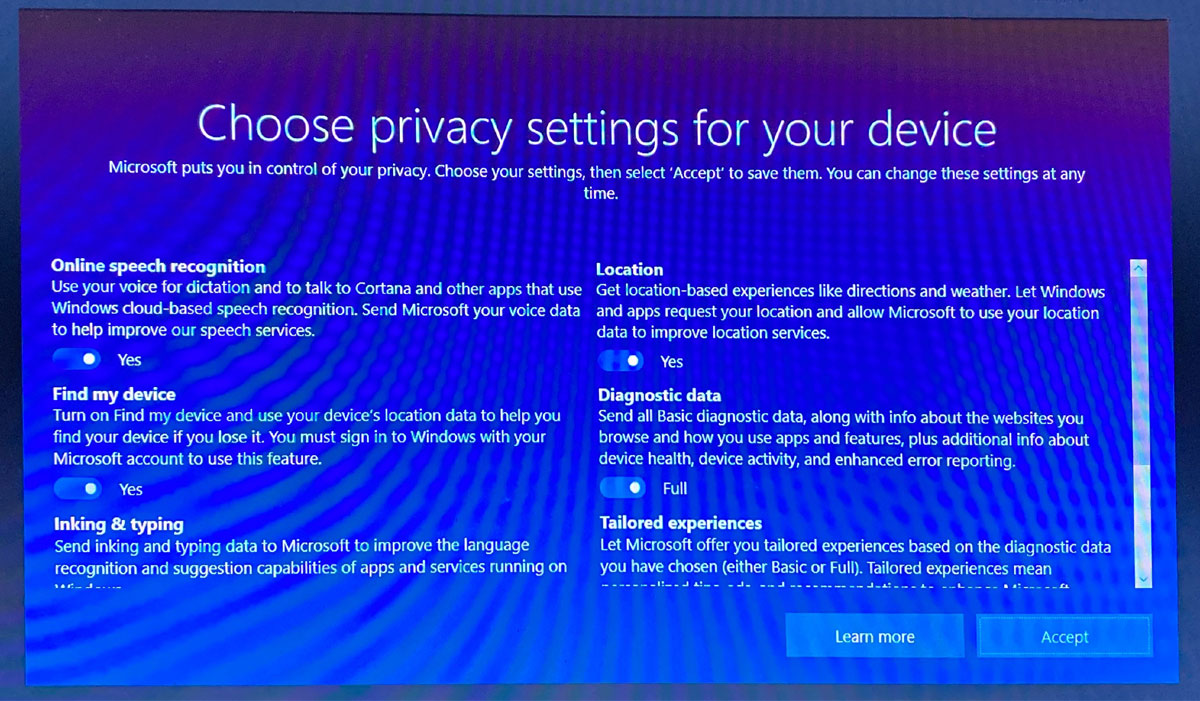 Congratulations! You now have a free copy of Windows 10 installed on your computer.
How to Find your Windows 10 Digital License
To see your digital license, click the Start button, scroll down the list and click on Settings, click on Update & Security, click Activation and if everything went as it should, you will see that Windows is activated with a digital license.
Note: you can also just type the word Activation in the search box, press enter and it will take you directly to this page.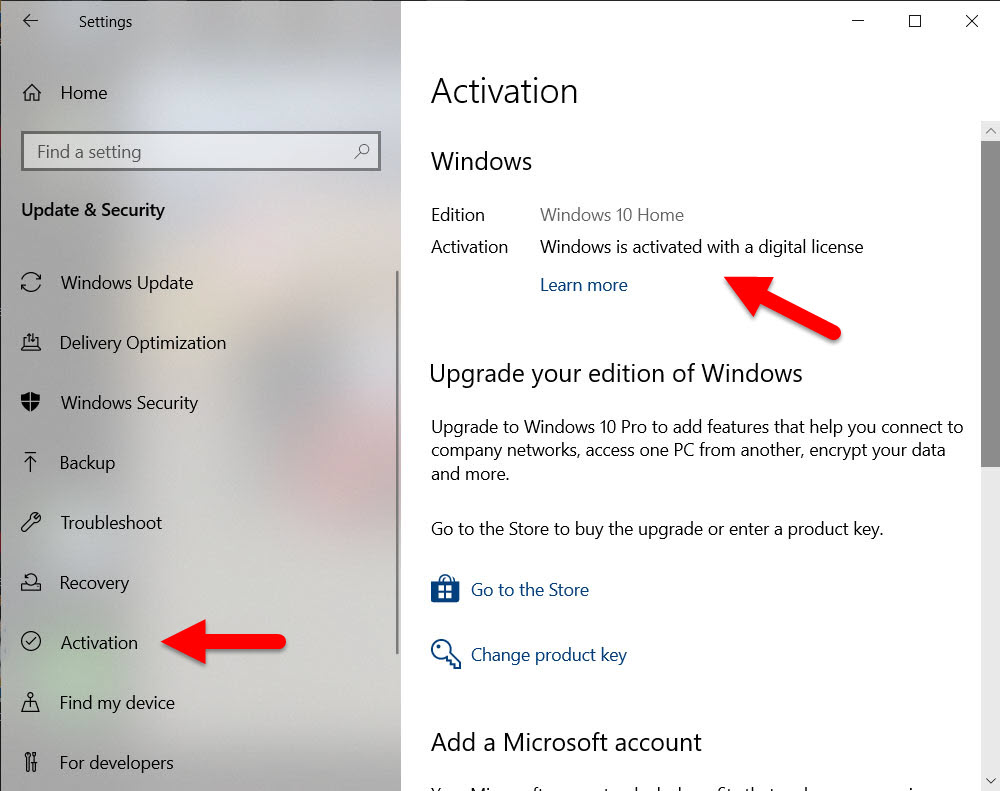 You can also enter your Windows 7 or Windows 8.x product key and activate Windows 10 if the device is not already activated.
Note: The following versions of Windows may also be included in the free Windows 10 upgrade. However, I did not test each version.
Windows 7 Starter
Windows 7 Home Basic
Windows 7 Home Premium
Windows 7 Professional
Windows 7 Ultimate
Windows 8/8.1
Windows 8.1 with Bing
Windows 8 Pro
Windows 8.1 Pro
Windows 8/8.1 Professional with Media Center
Windows 8/8.1 Single Language
Windows 8/8.1 Chinese Language Edition
Windows 8 Chinese Language Edition with Bing
Windows 8 Single Language with Bing
Windows 10 Home
Windows 10 Pro