So you found an interesting blog, like The Computer Lady online, that you want to follow and get updates from but just how do you do that? You can follow a blog in two ways – RSS and by email.
To get a blog's email updates that blog has to have them enabled. If they don't then you won't be able to get their emails.
How to Follow a Blog through RSS:
RSS stands for Really Simple Syndication
RSS feeds enable you to keep track of frequently updated content on a blog. You need something called a newsreader or feedreader to read these updates. These can be stand-alone programs you install on your computer, web-based applications or can be built right into your browser from Google, Yahoo, and more.
How to Spot an RSS Feed
How do you find a blog's feed so you can add it to your Feedreader?
The symbol below is the most common icon used to let you know that you an click on it to access the blog's RSS feed. The icon is usually orange but sometimes you might see it in other colors if the blog owner wants to change it.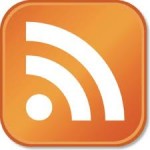 Another way to find the RSS icon is to visit that blog and then look for the icon either in the address bar or on the toolbar.
Firefox: Look for the RSS button on the Address Bar at the top of the screen.

Internet Explorer: Look for the RSS button on the toolbar at the top of the screen.

Click on that icon and the blog's feed page will load showing all of the latest posts. You will be given the opportunity to subscribe to the feed using a feedreader. To pick which feedreader you get to use click the drop-down list to see the options.

Click Subscribe Now.
Then just follow the instructions you are given. Each feedreader you chose will be slightly different so you will need to read what they tell you when you chose one.
Note: If you can't find the RSS button then type the URL of the site you are visiting and add /feed at the end, like this: