So you say you have a photos or other image you want to add to an email? Inserting an image into an email depends on the email program you are using. It is slightly different for each program but you can find the basic menu options to use to insert the picture through most programs.
Note: If you are using Gmail you cannot insert a .gif picture directly into a message but you can insert a .jpg or .png into an email message. The only way to add a gif to Gmail is to either attach it or put it as a picture in your Signature.How do I insert a picture into an email message?
For many free email programs like Gmail and Yahoo there is not a menu you can use to insert a picture directly into an email message. You have to attach the picture to the email instead.
How to Attach a picture to an email message:
Create a new email by clicking Compose Mail or something similar depending on your program.
Click Attach File.
Locate the file stored on your computer and click on it.
Click Open.
Wait until the file is loaded. You should see an indicator showing you that the file is attached.
Now you can create your email and the picture or other file will be sent along with your message.
How to add a picture or graphic into an Outlook email message:
Create a new email message.
Click the Insert menu at the top of the screen.
Click Picture.
Locate the picture from your computer by clicking the Browse button.
Click on the filename of the picture.
Click Open.
Click OK.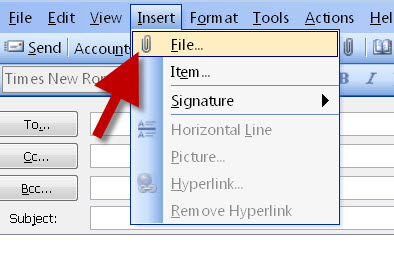 Inserting a picture or other image directly into an email will only work if the email is setup for HTML format. It will not work if you are using Plain Text.
To check the Format click the Format menu and then see what the checkmark is next to – HTML or Plain Text.