My name is Wendy but clients and students called me The Computer Lady so it stuck. I like to shar what I have learned that might help someone else. If I don't know the answer I can find out.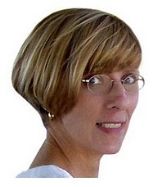 The Computer Lady Online has been around since 1998. Today it has been revamped with up-to-date lessons and help for using the Internet, blogging, Facebook, Twitter and more.
Follow me on Twitter, Facebook, sign up to get my email updates or follow via RSS
If you stumbled across this site then you were looking for computer, Internet or blogging help.
The Computer Lady covers basic topics that will help you keep your computer running smoothly, help you learn how to use basic programs like Windows, Word, Excel, the Internet, Firefox, Internet Explorer, Facebook, Twitter, Blogger, WordPress. This site is not designed for expert computer users but for beginners to intermediate who need help or what to learn more about their computer, how to use a tablet, smartphone, blog, use Facebook, Twitter, and more.
I am not trying to solve every problem and there are plenty of other sites out there for very in-depth problems that you can use. My goal is to help beginners learn how to use their computer, fix problems, and get more out of the Internet.