I have been using Dropbox to send files from my iPhone to my computer and also share photos and files with other people but now I might have to switch over to Google Drive. Google Drive is very similar. They give you 5GB of free cloud space to store your files. You have the ability to install it on your computer and/or use an app for your phone (iPhone/iPad or Android) to make sharing files easy.
That means that wherever you are, your stuff is just there. Ready to go, ready to share. With your files stored on Google Drive it doesn't matter if your computer dies or your phone gets run over by a Mack truck because your files will be stored in "the Google cloud."
The difference between Dropbox and Google Drive is that you can collaborate with others and share the same files. Google has built-in software to let you create spreadsheets, forms, word docs, presentations and more. You work on their platform to create the doc and then share it through the Google Drive. Share files with exactly who you want and edit them together from any device.
Get started with Google Drive with 5 GB of FREE space. If you need more space you can upgrade to 25 GB for less than $2.50 a month.
Now it doesn't matter how large that file is you need to share, put it on the Google Drive and anyone can access it from whatever device they are using, because it is stored on the cloud and not the device.
How to Use Google Drive:
1. Download the Google Drive software for Free, or get the app in your mobile device's app store by searching for google drive.
2. Log into your Google account when prompted and begin the file syncing process. You can decide what files you want to sync and can change it later too.
Google Drive will create a folder on your computer after you log into your account. You can access this folder by double-clicking on the desktop icon or on the icon in the tray. Right-click on the tray icon to access Google Drive preferences and sync options.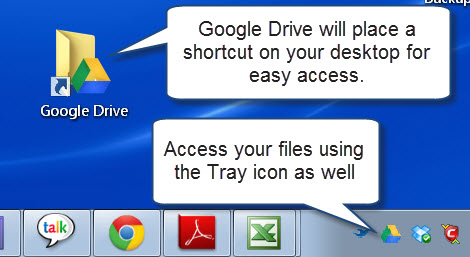 Access your files by selecting My Drive from the main menu on the app.
On the computer, open the Google drive folder and double-click on the file you want to work on.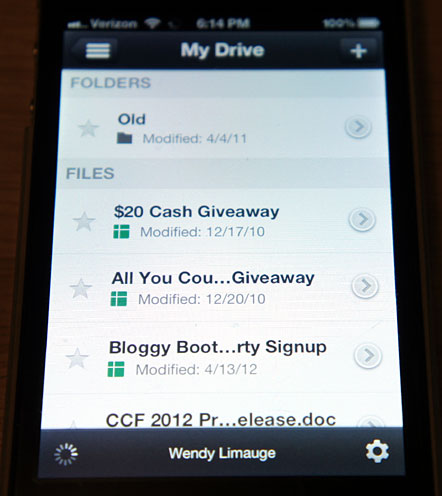 Need more help? Visit the Google Drive website to learn how to organize files, make folders and more.