Adding a YouTube to your blog is pretty easy but you need to follow a few steps to make it show up properly if you are using WordPress. YouTube videos are in set in iFrames and some blogs, like WordPress, won't show iframes properly without a special plugin.
First, you will need to download and install an iFrame plugin. There are lots out there. For this lesson we are using iFrame.
1. Click Add New under Plugins from the menu on the left.
2. Type iFrame and click Search Plugins.
3. Click Install Now.
4. Click Activate Plugin.
Copy the YouTube iFrame Code
Locate the YouTube.com video you would like to embed. Once you find the video follow these steps to embed it into your blog post.
1. Click the Share button under the video.
2. Click the Embed button (next to the Email button).
3. Choose a size at the bottom of the page or type a size you want in the Custom size box.
It is always best to use a custom size so you know it will fit into the post area and not overlap into the sidebars. If you don't know how many pixels wide your blog post area is just guess. You can go back and change it and recopy it again.
4. Copy the iFrame code.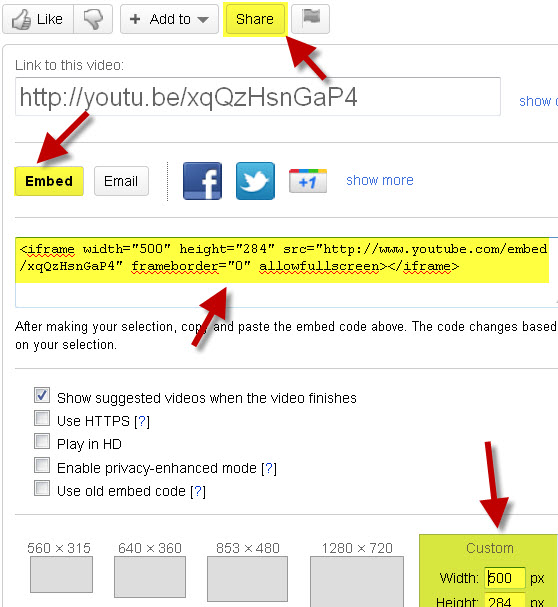 Add the YouTube Code Into your Blog Post
1. Open the blog post you want to add the video into (or create a new post).
2. Paste the iFrame code where you want it to appear. It doesn't matter if you are in Visual or HTML view.
Now you are going to modify the code just a bit to make it appear.
3. Change the < at the beginning of the code to [
4. At the end of the code remove > < / iframe > and replace it with ]

If you did it correctly the video will appear just like this cute video of Mishka the talking dog 🙂
Note: Every WordPress iFrame plugin will work slightly different but most work similarly. Most will require that you just modify the iframe code at the beginning and at the end.