Each of us is an individual and our computer is no different. Why not personalize your desktop with a fun holiday theme that includes working Christmas lights. Or maybe you like sports and want your favorite team to greet you each time you sit in front of your computer.
When you download a Windows 7 theme you are getting a collection of background images, colors, and sounds. It includes desktop backgrounds, a Windows border, a sound scheme and a screensaver. Some themes may include desktop icons and mouse pointers.
You can change or remove themes at anytime and they are free to download and use.
How to Install the Holiday Lights Windows 7 Theme
1. Visit the Windows Personalization Gallery website.
2. Pick a category on the left.
2. Click Download under the theme you want or Details if you want to find out more about it.
3. Click Open if you clicked Download.
4. Wait while the theme is installed on your computer.
To Change a Theme:
1. Click the Start button.
2. Click Control Panel.
3. Appearance and Personalization\Personalization
4. Click Change Theme.
Click on any theme to change it. The custom themes you downloaded will appear under My Themes at the top. The pre-installed Windows themes will be listed below. Pre-installed Windows themes cannot be deleted.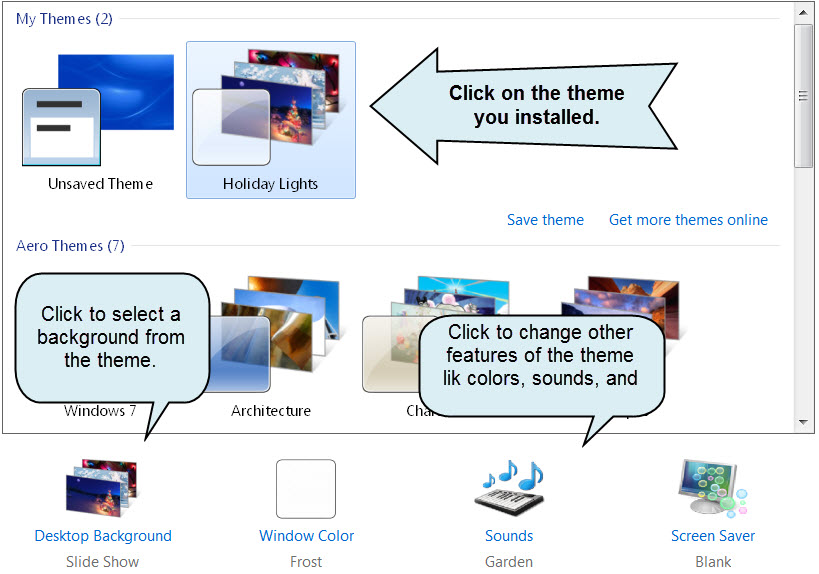 Change the Background Image
1. Click on the Theme you want to use from the Control Panel (see above)
3. Click on the Background icon at the bottom of the screen.
Here you can select all or Clear All and then select only those you want to show on the desktop. You can make them change every few minutes or once a day.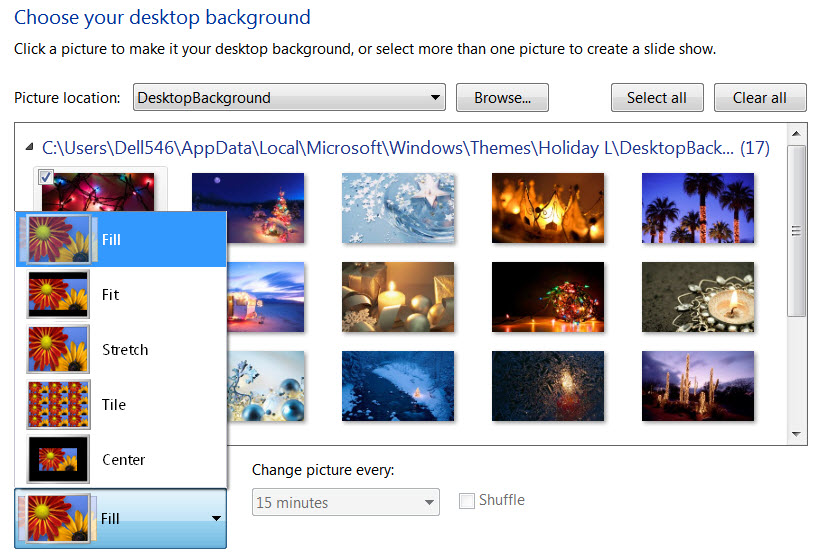 How to Delete a Theme:
You can't delete a theme while it is in use and you can't delete Windows pre-installed themes.
1. Click a different theme to apply it to the desktop (as indicated by the blue background in the image below)
2. Then right-click on the theme you want to delete and click Delete Theme.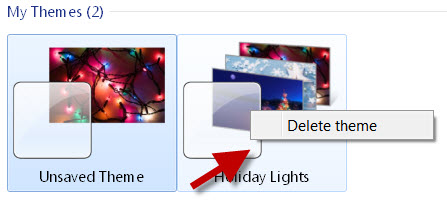 Windows themes will only work with Windows 7 Home Premium, Professional, Enterprise, or Ultimate editions.