Google + (Google Plus) is becoming as popular as Facebook. If you are a blogger, own a business, are a celebrity, have a brand, club, or more, you will want a Google+ Fan Page. Just like Facebook allows you to have a fan page, Google+ now allows fan pages to be created.
Some Things to Note about the Google+ Fan Page:
As of this post writing there is no way to create a Google+ Fan Page vanity URL.
The URL for my fan page is plus.google.com/b/111666647005100059654. In the future I do see Google+ keeping up with Facebook and allowing a vanity name on the end instead of an number so watch for that.
Update: I did find a workaround way to create a vanity URL for your Google+ Fan Page.
If you have a business, group, club, or organization where multiple users or members will want to access the Google+ Fan Page you are setting up, make sure everyone has access to the Google account you will use to create this page with. As of this post writing Google has not explained how you can add multiple users to have administrator rights to update and manage the Google+ Fan Page you create here.
It is still unclear as to what the difference is between Customer, VIP, and Team Members.
How to Setup a Google Plus Business Fan Page:
Setting up a fan page is simple and only requires a few steps:
1. Start by logging into your Google Plus account. You can create an account easily once you are on the Google + site or just log into your Google.com or Gmail account.
2. Visit plus.google.com/pages/create to create your Google Plus fan page.
3. Pick the category your Google+ Fan Page falls under, Local Business or Place, Product or Brand, Company, Institution, or Company/Institution or Organization, Arts/Entertainment or Sports, or Other. If you can't figure out the right Google+ Fan Page category now you can always change it later.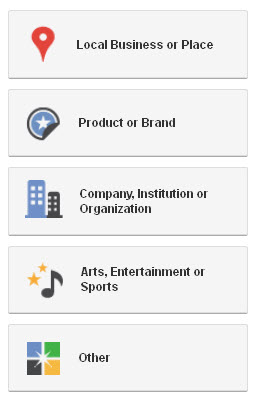 4. Type in the name of your site and URL. Make sure to pick what age groups can access your Google+ Fan Page from the :Any Google+ user drop-down list. Agree to their terms and then click Create when you are done.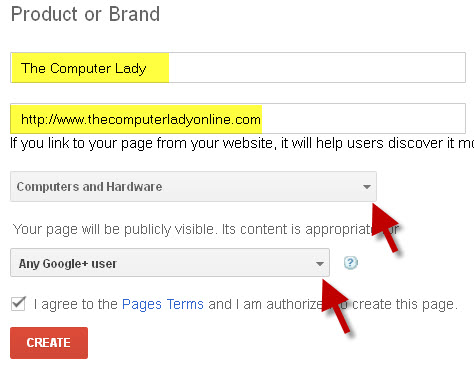 4. Type a description and set the profile image by uploading a photo from your computer or grabbing one from your personal Google Plus page.
Note: The profile image needs to be 250px x 250px in size. If you don't have an image to use for your profile that size you can resize it when you upload it.
5. Share your Google+ Fan Page. Now that you have your Google+ Fan Page created you can click to share it in your Google_ Circles. When you are done sharing click Finish.
Note: You may want to share the page a little later after you have added some posts to it. If you share now anyone viewing your Google+ Fan Page will see an empty page.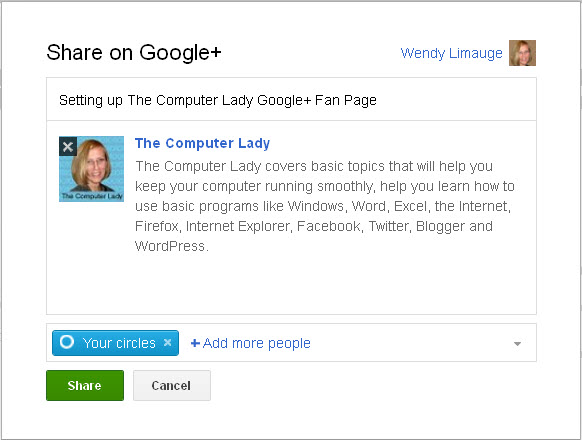 On the last page you get after setting up your Google+ Fan Page you will see options for adding your Google+ Fan page to your website or blog, your unique URL for sharing with friends and readers and information on how to build your circles.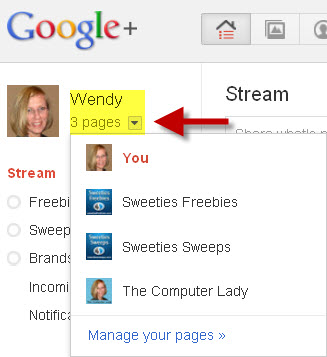 To view all of your Google+ Fan Pages and access them easily in the future click on the Google+ Home page icon and then next to your personal profile picture click the drop-down arrow to view all of your pages. Click Manage Pages to edit each one or click on a specific Fan Page to view it and use it.
Have you learned anything new about creating a Google+ Fan Page since I wrote this article? If so, please share it below so we have the most current information.